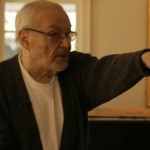 Since who we are is really just a sum of all of our experiences if you peer at me long enough you can probably make out a distinctively Maurice Sendak shaped slice in my psyche. In fact, Sendak's books and illustrations are so woven into the very fabric of childhood that I'm quite sure of it.
There was, of course, the incredible Where the Wild Things Are and In the Night Kitchen. Thankfully, my parents were awesome and I was blissfully unaware of the ridiculous "controversy"…created by puritanical repressed sex obsessed adults…(OMG you can see his pee pee!!!!) that surrounded In the Night Kitchen. Then there were the excellent books that the musical Really Rosie were based on….Chicken Soup with Rice, Pierre, One was Johnny, and Alligators All Around.
(Side note….I can probably sing to you every single song from the Really Rosie although you really don't want me to do that….trust me.)
And then there was The Big Green Book that Robert Graves wrote but Sendak illustrated that I would have sworn to you as a child was literally a magical book. In fact, I think I might still swear it.
This is a new interview with the magic-maker himself. I love how you can see that he has reached the point in his life that he is comfortably letting his Grouchy Old Man Flag fly at full staff. It
also feels bit bitter sweet because I wonder how much longer we are going to be lucky enough to have him here with us on this plane.
There's lots to love in this short interview. But if I had to pick out just one quote I think I would go with…
"My work has always been considered inappropriate. But the ones that I love…the ones that I think work as works of art and books…are inappropriate.
Enjoy…