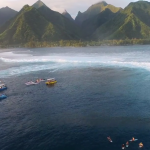 Once again busy busy today. But I'm stopping in over a working lunch to drop this little bit of eye candy on you.
It's drone footage of surfing in Teahupo'o. And it is GORGEOUS!
Teahupoʻo, in case you were wondering (and I sure was) is a little village on the south-west coast of Tahiti in the South Pacific. Aka French Polynesia. Aka Heaven on Earth.
Taking to the waves at Teahupoʻo
If I was a surfing type I would have known about Teahupo'o already, because apparently it's a surfing paradise. (Actually by the looks of it it's simply plain paradise.. surfer or not.)
The area is know for it's awesome surf with huge heavy offshore waves. And clear as glass water.
(PS – Confession: I may now be just a little bit addicted to the song accompanying this video…"Le Goudron" by Brigitte Fontaine from 1969)