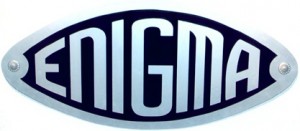 The story of the Enigma Machine, the encryption or cypher machine used by the Nazi's during World War II to share top-secret information has long fascinated me.
If you don't know about it, or the brilliant who broke the Enigma codes, do yourself a favor and head over to Google and do some reading on the subject. I promise you will not be disappointed.
But I had never heard of the Purple Machine, an encryption machine used by the Japanese around the same time (shortly before the war). But thanks to the folks over at i09 I now have.
I was sliding through my feeds earlier and a picture caught my eye…a gorgeous machine that resembled a typewriter. In the interest of not being a total echo chamber I encourage you to head on over there for some more details.
Their article, however, led me on a merry chase down the rabbit hole for pictures of the Purple Machine and the Enigma Machine.
I found them (or analogs of them…copies used to decrypt the codes), and more, and I thought I'd share a couple of the photos with you.
[Note: I attempted to only grab public domain and museum photos. But if I accidentally used your photo without attribution please let me know and I will remove the photo or give proper attribution…whichever you prefer.]