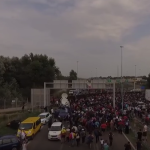 The tragedy unfolding in Serbia is so overwhelmingly heartbreaking.
All those families torn apart. All those lives destroyed.
Can you imagine having to flee for your life leaving everything you know and love behind?
The strength of these beautiful people is beyond my comprehension.
This drone footage taken at the Hungarian Serbian border once again drives home how huge this tragedy is.
We MUST offer asylum, compassion and open arms to the Serbians. Anything less is simply un-human.