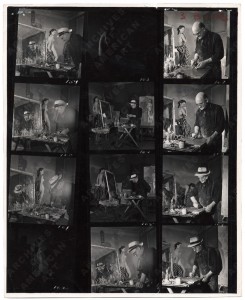 …these three water-conservation posters done by American artist Earl Kerkam in the early 1940's. They were  done while Kerkam was working for The Works Progress Administration's Easel Project  (with Willem de Kooning and Jackson Pollack). The posters were created for the New York City Department of Water Supply Gas & Electricity.
I'm sorry to say I knew nothing about Kerkam before stumbling across these posters. He was a painter whose work fell into the classifications of abstract expressionism and New York Figurative Expressionism.
After taking a look at some of Kerkam's paintings I was struck by how different these posters are from his other work. But he was apparently  a well rounded guy having done some movie poster design for Warner Brothers as well and serving for a time  as the Art Editor for  "Treat 'Em Rough" and "Progress" magazines. He was even in charge of the American Art Gallery in Paris for a short time.