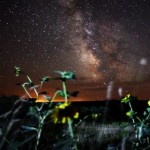 This gorgeous short film, titled "Temporal Distortion" and made by Randy Halverson, is a long…20-30 second…exposure time lapse of the South Dakota sky.
The film serves as a reminder of how truly beautiful it all is if you just take the time to stop and look. The long exposures allow you to see things like the Milky Way, auroras, and shooting stars in a way that you'd never be able to catch with the naked eye.
The images alone are jaw dropping…and all the more so because they are real…but add in a soundtrack by Bear McCreary and you've got pure magic.
You may not recognize the name, but if you're even a little bit geeky I'm going to be you know Bear's work. He has done music for Battlestar Galactica, The Walking Dead, and Eureka to name just a few.
If you're interested you can pick up a copy of the extended cut version of the "Temporal Distortion" on Bear's website. I will not spoil the surprise by telling you the cost, but rest assured that it's super affordable…a real steal.
Now feast your eyes on some space pRon from an earthly perspective…
(HINT…take this puppy full screen…press play and then that hit that little symbol down by the word Vimeo…for the best experience.)