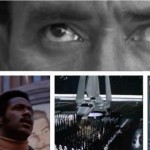 Really not much to say about this sweet little mashup. It artfully weaves together a dab of Star Wars along with a bunch of other cool little tidbits and it's is just some really nice eye…and ear…candy to entertain you on this fine Friday.
It's called "Don't hold back, push things forward."
It was created by Chris from Ithaca Audio.
Apparently he used Ableton Live and an Akai APC40, which, I'm sorta embarrassed to admit doesn't mean a darn thing to me…but I'm sharing since it might to you.
You can grab yourself a free extended mix version of the mashup on SoundCloud here if you so desire.
Enjoy!…