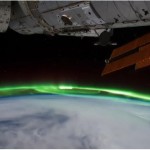 Behold Earth from about 350 meters up above.
Do yourself a favor and take this one full screen and put on some headphones if you've got 'em.
You're about to embark on a magical trip.
This is a series of time lapsed photos taken from the International Space Station from August to October of this year and then expertly edited by Michael König.
This is not some shopped image trickery or a fancy photorealistic animation. This is the real deal. König carefully smoothed, re-timed, and removed flickering to create this gorgeously smooth couple of minutes of awesome.
He made sure to maintain the images as close to the originals as possible conserving the original color and content. And he gives full credit for the mind-blowing imagery to the photographers Ron Garan, Satoshi Furukawa, and the crews of expeditions 28 and 29.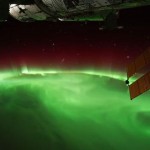 Here's a list of what you're going to see on this journey:
1. Aurora Borealis Pass over the United States at Night
2. Aurora Borealis and eastern United States at Night
3. Aurora Australis from Madagascar to southwest of Australia
4. Aurora Australis south of Australia
5. Northwest coast of United States to Central South America at Night
6. Aurora Australis from the Southern to the Northern Pacific Ocean
7. Halfway around the World
8. Night Pass over Central Africa and the Middle East
9. Evening Pass over the Sahara Desert and the Middle East
10. Pass over Canada and Central United States at Night
11. Pass over Southern California to Hudson Bay
12. Islands in the Philippine Sea at Night
13. Pass over Eastern Asia to Philippine Sea and Guam
14. Views of the Mideast at Night
15. Night Pass over Mediterranean Sea
16. Aurora Borealis and the United States at Night
17. Aurora Australis over Indian Ocean
18. Eastern Europe to Southeastern Asia at Night
Wow, we've sure got a beautiful set up here. Sure we manage to screw it up a little bit more each day. But from this height it's hard to feel anything but hope.
Enjoy!