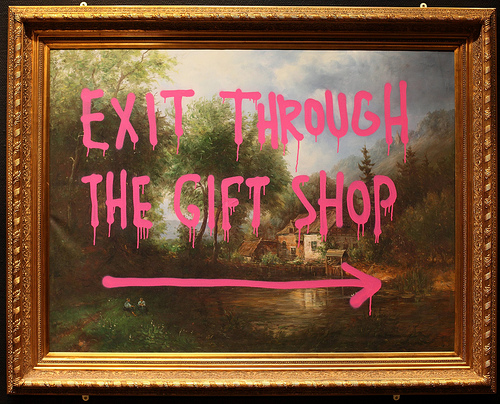 I got to see a screening of Banksy's "Exit Through The Gift Shop" last night courtesy of the Maryland Film Festival crew. I loved it.
I went in knowing next to nothing. Which is the way I prefer to head into a theater. Any expectations I may have had about seeing a film that took on the often heatedly discussed "Is it art?" question were off base. While certainly that is one of the many questions that play a part in this film, it's so much more than that.
Oh and did I mention you'll laugh…a lot?
Go see it. You will not be sorry. Doesn't even matter if you are a street art fan or not.
Baltimore folks it's opening today at the Landmark. Buy your tickets now.
Outside of Baltimore folks check the website to see when it is coming to a theater near you and then buy your tickets.
Then be sure to tell everyone you know to go see it. The promotion for this film is being done on a shoestring and is relying on word of mouth to get it seen.