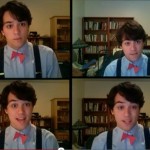 …to kick the day (or afternoon, or evening depending on when you're looking…or from where you're looking…sheesh this is getting complicated) off right.
This is Dan Rider actor and paper bowtie creator singing his A Capella version of the Dr. Who theme song with some self-styled lyrics made of his fav Dr. Whoisms.
(pstt…Dan…while the papercraft IS right impressive as a dedicated Dr. Who fan it's time you order yourself a proper bowtie and fez.)
Enjoy!….