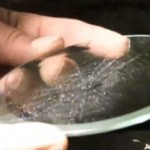 Emil "Rocky" Fiore is an artist out of New Jersey whose are is…to say the least…unique. It's really a collaboration between Rocky and…well…spiders.
Rocky spent many years perfecting his spiderweb capture technique. He carefully spraypaints the webs with a metallic silver paint and then gently captures the web onto a varnished glass plate. Later for contrast he paints the backs of the plates and then the webs true beauty becomes clear.
Since he started capturing webs in his early 20's he has mounted over 12,000 of them.
Of course Rocky's work doesn't come without some controversy from those that say he shouldn't remove the webs. For the record Rocky never injures the spiders. But of course he does force the spider to have to build another web to replace the one that was captured.