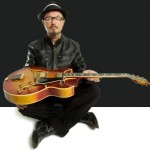 …in fact, I declare that from this moment forward it IS my theme song. Because my circus is ALWAYS in town.
(And considering that Bhermie released his new double CD "Untagged Friends" with this track on it on November 8th the day after my birthday I choose to believe it was secretly written to BE my theme song thank you very much.)
I present "Big Sized Girls" from the most awesomely talented (not to mention terrifically lovely and generous) Bruce Bherman from Belgium.
Be sure to visit Bruce's website here and buy his albums.  You will not be sorry…each track is better than the next.