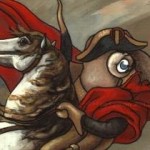 …Meg Lyman for her unimaginably fabulous re-imagining of Jacques-Louis David's classic painting, "Napoleon Crossing the Alps."
I'm so in love with this idea of Masters work being octopusified.
I think Meg ought to launch a whole business based on the concept. The possibilities are endless.
Can't you just imagine "The Creation of Adam" with an extended tentacle instead of a finger? Or a smiling "Mona Lisa" octopus?
Or the one that might just secure me a permanent spot in the home of hellfire and brimstone when I hang it on my wall (but would SO be worth it)…an octopus seated at the Last Supper!
Really I don't think Leonardo would mind…he seems to have had a healthy sense of humor.
Be sure to visit one of my new favorite spots Meg's CrashOctopus blog and also pop over to her illustration website where you can buy awesome stuff and even commission work! (The Scream Octopus anyone?)
And for comparison the original…