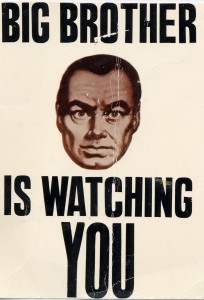 Here's the scene…
I finish writing an email in Gmail and hit send. But instead of sending my email Gmail serves me up a message "Did you mean to attach files?".
Huh…what…no, why do you ask?
The message continues…
"You wrote 'are attached' in your message, but there are no files attached. Send anyway?"
Hey! You the nerve. Stop reading my email! Well I never..I…well..uh…sigh…
Way to remind me of the slick and slimy eyeball of Big Brother that is always casting his eye upon me Google.
Yes, yes of course I know he's always there..poking around…pawing through my stuff…serving me up contextual advertising he's just sure I'll want to see. It's the price I pay for all the free stuff I get back. A deal struck with the devil perhaps. But a fairly agreeable one most of the time.
But wow..can't I at least pretend it's not going on? Do you really need to remind me that you are "reading" my emails as I am writing and sending them? Do you Google…huh..huh…do you?
How icky and invasive (and ok the geeky side of me insists I add kind of a little bit awesome too) this is.