T.S. Elliot once wrote, in the Love Song of J. Alfred Prufrock, "I have measured out my life with coffee spoons." For me maybe it would be more like half my life. I came to my coffee addiction a bit later in life than most. It was less than five years ago when I took up the mug and never looked back.
I am by no means at all, not even a little bit, a coffee aficionado. By this I mean I am not fervently searching out the freshest and best beans and talking brewing methods. But I do firmly believe that grinding my own beans makes a tastier cup of coffee. I also like cream in my coffee and while I always enjoy good old half and half my favorite way to drink coffee is with a splash of cold Coffee-mate creamer in it: Hazelnut to be exact.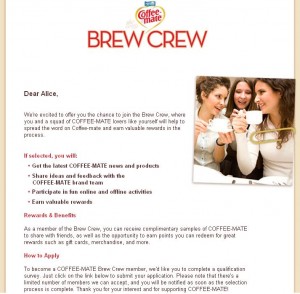 A month or two back I received an email from Coffee-mate inviting me to apply to become part of their "Brew Crew" social community. If I was selected I would:
• Get the latest COFFEE-MATE news and products
• Share ideas and feedback with the COFFEE-MATE brand team
• Participate in fun online and offline activities
• Earn valuable rewards
If chosen I was promised free samples and the opportunity to earn reward points for gift cards, merchandise, etc. I drink Coffee-mate in my coffee just about every single day of my life so I thought "Why not?" and I filled out the application. It took quite a while, over a month, before I heard back that I was "accepted" into the Brew Crew.
I signed in and set up my profile. The website was simple, easy to use, and has fun little surveys to take to earn points. The surveys seem to be designed to gain demographic info about their users. They are easy for me to answer and probably provide a ton of usable date for the Nestle folks to use to market more effectively to me and other potential customers.
Today a package arrived in the mail. Inside was an awesome goodie bag from Coffee-mate! They had unexpectedly sent me a really nice travel coffee mug, an insulated shopping bag for carrying my Coffee-mate home while keeping it cool, the cutest little Coffee-mate coffee spoon and a sample of the yet to be released Coffee-mate Stick Packs. (The stick packs are really nicely packaged, like the sugar packets you find all over Europe they will be easy to toss into a bag to have for on the road coffee breaks.) They topped the whole thing off with a really nice welcoming letter from "Meg" the Brew Crew Community Leader
Bravo! I am so impressed with the marketing here. I have really been made to feel like a part of a special group. I already was a Coffee-mate fan and they tipped me right over the edge into an evangelist. Great job Coffee-mate!