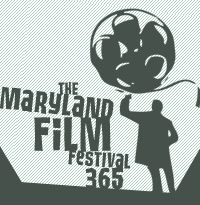 We officially kicked off our annual lost weekend at the Maryland Film Festival with the Opening Night shorts program last night at the MICA Brown Center. It was hosted by the always funny Bobcat Goldthwait who was presenting a short of his own, Goldthwait Home Movies, (on Saturday he will also be screening his full length feature World's Greatest Dad and tickets are still available).
It was a nice relaxed and low key opening with Goldthwait cracking a lot of jokes as he chatted up the filmmakers. The closest we got to Hollywood Glam was that John Waters was in attendance (he will be screening his annual pick Love Songs this evening).
We saw eight shorts in total:
Goldthwait Home Movies – Bobcat Goldthwait, USA, 7 minutes
A silly but fun little compilation of actual Goldthwait family movies with some silly narration.
The Bellows March (Work In Progress) – Eric Dyer, USA, 5 minutes
An in progress experimental work using digitally printed three dimensional sculptures. Colorful, interesting and just not my thing. But if you are into this kinda thing put it on your list to see.
Done In One – Jay Zimmerman, USA, 7 minutes
Short film comprised of a single shot with no editing. Fun to watch and fascinating to see them pull it off.I enjoyed this one.
Dahlia – Michael Langan, USA, 3 minutes
An animation showing the hustle and bustle of city life interspersed with some incredible shots of flowers like I have never quite seen them before (the filmmaker described the process he used to get these..taking hundreds of single head on with flash shots at night and using replacement animation techniques). A nice visual feast.
Trepan Hole – Andy Cahill, USA, 6 minutes
An animation of creatures with ungainly long limbs bouncing around their universe and off each other.  Not my favorite.
Grand Teton – Julia Kim Smith, USA, 5 minutes
Intended as a video portrait of a first generation Korean family. Strange and a bit disturbing to me.
Mildred Richards – Marc Kess, USA, 19 minutes
Using an old 1940's radio soundtrack this film adds in new visuals. Shot in a style befitting the period the cinematography on this one was outstanding. In fact the whole piece was an impressive accomplishment. Definitely worth seeing if you ever have the chance.
About Film Festivals – Jim Jacob, USA, 7 minutes
An "instructional video" with tips for attending film festivals. This dry tongue in cheek film was worth more than a few laughs.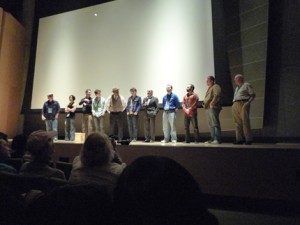 After the films were screened there was a Q&A which is one of my favorite parts of attending film festivals. You get to learn some of the behind the scenes and how it was made stuff that you never otherwise would have. Followed by a reception.
Nice evening and nice kick off to the weekend marathon of movies.