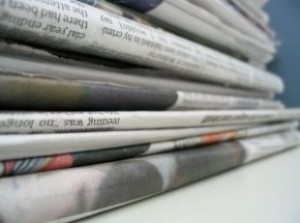 I don't know about you but I find it incredibly sad to see the passing of the great American tradition of the newspaper. Living in a city that lost one of its major newspapers long before the economy starting eating newspapers alive I already had that feeling of regret and nostalgia. (Not to mention the distinct feeling that news had suddenly become less diverse and distinctively one sided.) But watching other major newspapers tumble and others on the brink in today's struggling economy is almost heartbreaking.
I do have to step back and separate this from the current economic crisis and realize that the demise of the print newspaper may be inevitable. After all as we become an increasingly digitized society information that is changing by the moment does indeed lend itself to the medium. But there is still an in depth reporting and insight, a richness, to the printed newspaper that I don't believe you will ever get online. Not to mention the importance of locally relevant stories.
I believe newspapers are worth saving and hope they never leave us entirely. February 2nd is National Buy a Newspaper Day and I for one will be purchasing my local newspaper. Will you please join me?