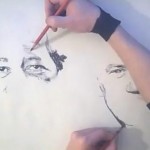 I've always admired artists.
Ok…ok…if we're being totally honest here admired AND envied.
We have quite a few of them in my family and while I'm not totally devoid of any artistic inclinations I never would call myself an artist.
No, I save that for those with mad talent like this young man, Xiaonan Sun, a self taught American artist.
Sun's specialty is portraits. And those alone would be…and are…impressive enough.
But apparently Sun can't just rest on impressive he had to make the rest of us slackers look REALLY bad by heading right on over to INCREDIBLE.
Here, in a tribute to the ever popular film "The Shawshank Redemption", Sun completes two portraits at the same time.
In an amazing feat of Ambidextrous Accomplishment he literally draws a portrait of Morgan Freeman with one hand and Tim Robbins with the other at the same freaking time!
Check out Sun's website theportraitart.com for more of his work. And watch more of his videos on his YouTube channel.
[via theawesomer]