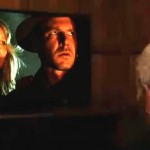 …Well, sort of watching them for the first time.
Ok, ok…I'll admit it It's not REALLY Harrison watching the films for the first time. Darn, I never was any good at lying.
No, instead it's just a very clever and slightly bizarre mashup (just the way I like 'em) of clips from the Indiana Jones films and clips from a video of Harrison playing Uncharted 3 (a video you can watch un-mashed here if you so desire).
The result is a perfectly timed marriage of clips that you could almost swear was the real thing.
Or,  should you prefer the conspiracy-theorist route, you can choose to believe the note that the makers of this mashup…DogFoodFilms….left for us in the description instead:
"****TO CLARIFY – THIS IS DEFINITELY NOT A FAKE. IT WAS BROUGHT TO ME BY THE SAME VALID SOURCE AS THE ALIEN AUTOPSY & MICHAEL JACKSON GHOST VIDEOS****"
Enjoy!….