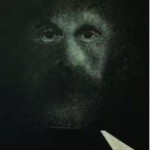 (See what I did there? Dash? Get it? Ha!…Okay, in this case it looks like it's a heck of a lot more than a dash. But "a lot" just isn't nearly as chuckle-worthy. Am I right?)
Well if you answered yes to the question in the title then what the heck are you waiting for?!
Make some art!
Check out this awesome "salt art" by an artist that I think is named Bashir Sultani (?)..or at least that is what his Facebook page is called.
Sultani is a self-taught illustrator and a heck of a talented guy. According to his YouTube  info he was born in Afghanistan, grew up in Russia, and now lives in Canada.
You can follow Sultani on Twitter, subscribe to his Tumblr (where you will see lots of his other impressive work), or subscribe to his YouTube where he apparently occasionally takes subscriber requests.