The day was shaping up to be a nightmare. From rain to Zipcar troubles. From the gas and electric going off to my computer dying. From the tension filled drive to one way street hell.
And then an angel sang for us and it all was better again.
We drove up to Philadelphia to see Jónsi in concert at the Electric Factory and I must say it was a beautiful concert. We managed to snag stools along the rail in the balcony right at the stage and had a perfect view of everything.
The set, designed by 59 productions was beautifully done and the projections really gorgeous. Not just a "rock concert" here but truly theater quality.
The sound quality was equally as impressive. The show built to a totally immersive climax of body thumping sound and mind burning light. You' would have to be dead to not be drawn in by it.
By this time in the tour…I think they are at about at performance twenty…I'm sure they're starting to feel a bit exhausted. But it didn't show. They gave it their all and the energy level was still crackling.
Only thing missing was we didn't have a camera. The venue clearly stated no cameras on their website and being in a rules-following mode (very rare for me) we didn't take one. Of course their were LOTS of cameras and I cursed myself a dozen times over for not having at least brought one of our small ones (not sure one of the SLR's would have made it in).
I've included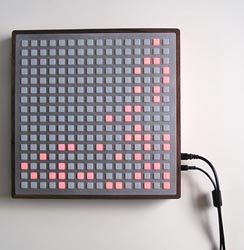 a video below from one of the non-rule followers who was kind enough to post it on Youtube for us. They were a bit far away and as always a low-quality video never does justice to the real concert experience. But it is still is a nice memento of the night. Below that…for anyone still interested…is the same song "Sinking Friendships" shot live and in a good quality.
One thing we found fascinating that some of you other geek-types might find interesting also was a small electronic instrument/device with lots of lights on the front that Ulfur sat down on the stage to play during two songs. After trolling around the Jónsi tour site I found some info on the device. It is called a monome and there is an open source community (yay three cheers for open source!) that has grown up around it here.
We didn't get to bed until after 3 AM. But the concert was well worth the sleep lost.
jónsi – sinking friendships (live) from Jónsi on Vimeo.