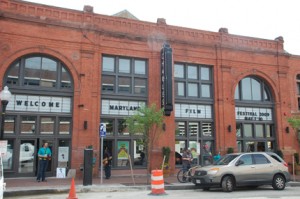 Wow what a great time we had this year at The 2009 Maryland Film Festival! We were celebrating our 5th year as Red Carpet Members of the Friends of the Festival and I believe our 7th year attending. Thanks to Jedd Dietz and the rest of the staff and volunteers who make this awesome festival possible every year!
We started out our annual mini-vacation with the opening night shorts program on Thursday night and thirteen screenings later we find ourselves happily exhausted on this Monday.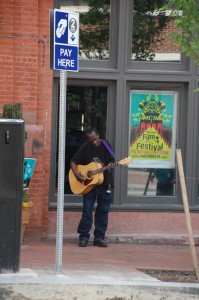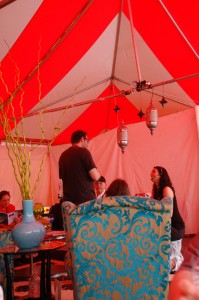 With so many good films and so little time it is always hard to choose what to see. This year we scored with some excellent picks.
Below are two of my favorites of the weekend. I will share more with you later in the week:
Modern Love Is Automatic, Writer/Director Zach Clark
My hats off to the filmmaker Zach Clark and lead actress Melodie Sisk. Never have I seen so much being said when no words were being spoken.
Considering this is a movie about a nurse who "begins moonlighting as a dominatrix" it has a surprisingly quiet pace that fits the lead character Lorraine perfectly. Emotionally detached and almost frozen in her ability to communicate any emotions at all we watch as Lorraine sets out on the most low-key journey into a fundamental change that you will ever see.
This dry dark comedy is occasionally punctuated by nerve jangling blasts of death metal that somehow just feel right; breaking the emotional tension created by the main character Lorraine's overall numbness.
Modern Love is Automatic was easily one of my favorites from this year's festival. The director Zach Clark, his cinematographer Daryl Pittman, and the two female leads Melodie Sisk (Lorraine) and Maggie Ross (Adrian) were at the festival for the Q&A after the screening.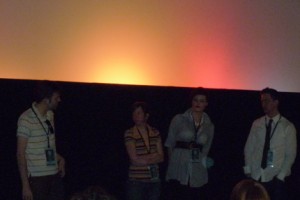 Zach says it took him two years to complete the screenplay and they shot it in HD in about 6 months on the weekends. He thinks of the film as a "journey to a beginning. Her [Lorraine's] story starts there." When asked about the dominatrix material they told a brief, but funny, story about a very uncomfortable meeting with a dominatrix in a "small hot room in New Jersey."
Melodie told us that she is totally different than her character Lorraine making it a great challenge and "a gift of a role." Maggie said that her bubbly character Adrian has a lot in common with her.
If you have the chance to see the film do and be sure to let me know what you thought. I heard mixed "reviews" in the hallway, but I personally loved these characters and the movie.

Strongman, Director by Zachary Levy
Zach on PCTV from Zachary Levy on Vimeo.
[There is an interview after the weather..hang in there. No trailer available yet.]
I so love a good documentary and Strongman was a superior one. It follows Stanley "Stanless Steel" Pleskun. Stanley claims to be the "Strongest Man in the World at Bending Steel and Metal." Whether he is or not is up for debate, but what isn't up for debate is what a fascinating and engaging person he is and what a kind gentle soul the man has.
Stanley's life hasn't been easy. Although he can bend pennies with his hands and leg press massive trucks he struggles to prove himself and see true success with his strong man career. In his personal life and his relationship with his longtime girlfriend Barb he has a rocky road full of ups and downs.
But throughout it all Stanley manages to beat down his demons and continues to meet life head on with a positive attitude that makes you root for him and hope only the best for his future.
Not interspersed with the typical interviews or factoids Zachary instead uses a very personal style that really let's you in on the intimate details of Stan's life. The filmmaker was on hand to introduce his movie and do a Q&A after the screening. He told us about his first encounter with Stanley on a television show he was working on where Stan was I believe pulling two "small" airplanes with two ropes. He said he was immediately struck with the juxtaposition of this tough performance and the gentleness of the man himself and he knew right away there was a film to be made there.
When asked about how Stanley is now Zachary shared that he is doing well although still struggling with trying to find his big break. He told us that Stan has seen the film and was very pleased with it. Stanley has told Zachary that he feels that he knows and understands him in a way that no other person possibly can. I am guessing is probably the greatest compliment a documentary filmmaker can get.
Strongman won Best Documentary at Slamdance this year and I can see why. It's a must see.
Remember support independent film! 🙂