…And I'm not talking about showing up with those tired old standbys roses, chocolate, and jewelry…yawn. (Unless that jewelry is a Kraken necklace. But clearly that goes without saying….duh.)
No, in my house to get the heart to go pitty pat you have to step up your game a few notches and do a LOT better than that. And lucky me my hubby is up to the task surprising me with the best unexpected gifts a kinda geeky girl could desire.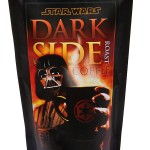 A month or so ago it was a bag of Star Wars Dark Side Coffee Beans. Which, in case you're wondering, IS actually quite tasty.
This weekend it was two…count them TWO geektastic toys. A Dr. Who Andipose Stress Toy and a Bastardino by tokidoki. *Swoon* The perfect companions to go with my Dalek yet another surprise gift (you can watch a video of him paroling my desk here) from the hubby some time back.
So I know you're probably a little jealous right now and you are dying to lay your eyes on these puppies.  So without further ado I present to you Andipose and Basterdino.