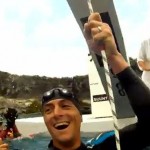 I love the water. Always have.
If I had the choice I'd live by the ocean AND have a pool and I'd swim every single day of my life.
Unfortunately I have bum ears so any kind of diving just isn't in the cards. Besides, let's just say my body composition doesn't lend itself to staying under the waves and leave it at that. (Okay for those of you who aren't catching on…fat floats.)
I suppose it's my love for the water that drives my fascination for freediving.  Or perhaps it's simply the strange beauty that comes with pushing the human body to its limits.
Back in December 2010 freediver William Trubridge completed an unassisted record breaking dive of 101 meters.
Unassisted (CNF or constant weight without fins) means no sled, no weights…heck, not even any freaking flippers! Were talking bare hands, bare feet, and one breath of air taking him down 330 feet into that deep dark abyss.
Watch as Trubridge dives deeper and deeper into Dean's Blue Hole in the Bahamas.
Feel the anxiety as things get darker and darker as he drops.
And experience the tightening in your chest as you wait for him to finally reach the surface in his assent.
Puhh….the whole dive is 4 minutes and :10 seconds of incredible!