…and paints his own nature into his pictures." Henry Ward Beecher
I love that quote. Not sure what it says about me and my soul considering the "art" that I produce. But still it is a fine quote and one that makes me think of my incredibly awesome grandfather my favorite artist in the world.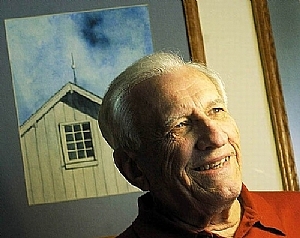 Granddad is a watercolorist. This is just one of his many talents, but one that he excels at. How many 80+ year old grandfathers do you know with their own website? Probably not many.
I may be accused of being biased but if you take a look his work you will see it is is full of heart and honesty and beauty. I am in awe of his talent. You should see the competition that goes on within the family to obtain one of his pieces.
I have selected a couple of his pieces to show you here, but please be sure to visit his website to look at the rest.
Oh and if you are looking for a unique, very original, and one of a kind gift shoot my granddad an email. Tell him I sent you. He has many more paintings to choose from than what you see on his site and his pricing is always more than reasonable.
Now who has the coolest grandfather ever? That would be ME 🙂