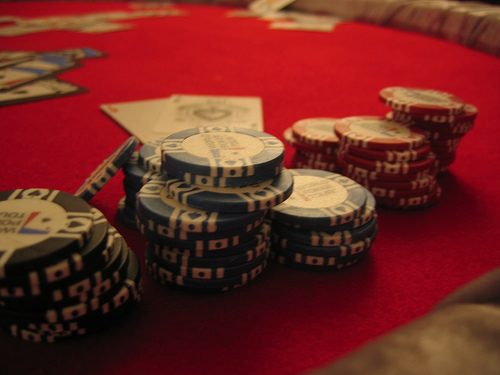 Did you know that poker players are doping up for their "sport?"
Yeah, me neither.
According to a new study it turns out that 80% of them are indeed doing just that. About 73% of that group are taking drugs to focus and concentrate better. The rest to calm nerves, stay awake or improve their memory.
And were not just talking pros here. Semi pros, amateurs, and plain old recreational players were sur
veyed as well.
Hey now…I feel your doubt being aimed at me. This is a for real study. It was conducted at South Eastern University and it has an official name and everything: "Use of cognitive and performance enhancing medications in poker players."
Still doubting me? Check out the slideshare presentation on it.
Performance enhancing drugs in poker. Never thought I'd see the day.
[Poker table and chips photo courtesy of  chrischappelear]
[Poker star photo courtesy of TiagøRibeiro]