Miraculously, this vintage letter to Santa survived being hidden up a chimney for over 80 years.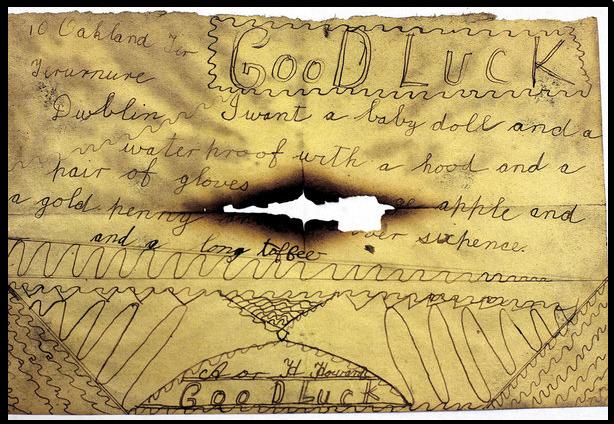 According to the Irish Times it was written on Christmas Even in 1911 by Hannah Howard 10 and Fred Howard 7 of Dublin.
The current owner of the house that the Howard's used to occupy, John Byrne,  discovered the letter in 1992 in the chimney in the front bedroom of the house when he was installing central heating.
The incredibly sweet letter is obviously brimming over with some kind of Christmas magic since it somehow managed to avoid being burned to a crisp through what must have been many years of fires in that fireplace. (Personally, I think it was the generous wish of "Good Luck" to Santa that they added at the end of it that cast the magic spell of protection.)
Wondering what they asked for? According to the Irish Times the kids wrote…
"I want a baby doll and a waterproof with a hood and a pair of gloves and a toffee apple and a gold penny and a silver sixpence and a long toffee."
Let's hope that Hannah and Fred got everything on their relatively modest list of requests.
[via The Irish Times]